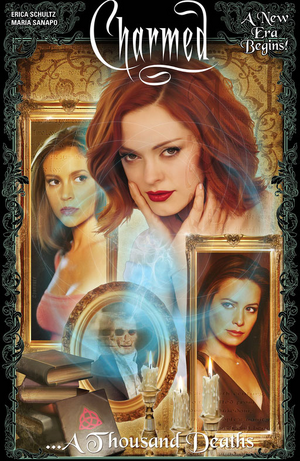 A Thousand Deaths: Part One
Publication Details
Series Title:
Charmed
Story Arc Title:
Season 11
Release Date:
March 8, 2017
Issue #:
43
Series Volume #:
8
Story Arc Issue #:
1
Story Arc Volume #:
1
A Thousand Deaths: Part One is issue 1 from Dynamite. It is issue number one of Volume 8 and issue one of season eleven (maybe).
A dark force has set its sights on the art world of San Francisco and the only ones who can stop it are Phoebe, Paige, and Piper! Dynamite is proud to present a brand-new Charmed story by writer Erica Schultz (Swords of Sorrow: Black Sparrow & Lady Zorro, Revenge) and artist Maria Sanapo (Grimm, DC Comics Bombshells) that will CHARM returning fans and new alike!
Summary
Balancing work, witchcraft, and a life is never easy, and the Charmed Ones are stretched too thin. Meanwhile, a demon in the Underworld rallies the troops with a plan to take out the Charmed Ones forever.
Person, Place, or Thing
Characters
Returning from the TV Series
Locations
Returning from the TV Series
Objects
Returning from the TV Series
Powers
Returning from the TV Series
Ad blocker interference detected!
Wikia is a free-to-use site that makes money from advertising. We have a modified experience for viewers using ad blockers

Wikia is not accessible if you've made further modifications. Remove the custom ad blocker rule(s) and the page will load as expected.