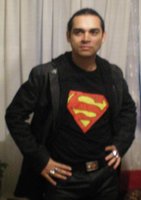 Carlos
Creator Details
Personal Details
Full Name:
Carlos Granda
Worked On:
Interior Pencils
Series Worked On:
Season 9

Website(s):
deviantART
Site
Worked On Details
Penciler – Interiors:
Oh, Henry
Worked On Numbers
Interiors Penciled:
1
Worked On Guide
Worked On Order
First
Oh, Henry
Last
Only One Issue Worked On
Carlos Granda has drawn one issue of the Charmed comics.
Bio
He lives in Colombia.
Interiors
Edit
Other Works
Edit
Grimm Fairy Tales 64
The Jungle Book #1-5
Other Art
Edit
Ad blocker interference detected!
Wikia is a free-to-use site that makes money from advertising. We have a modified experience for viewers using ad blockers

Wikia is not accessible if you've made further modifications. Remove the custom ad blocker rule(s) and the page will load as expected.