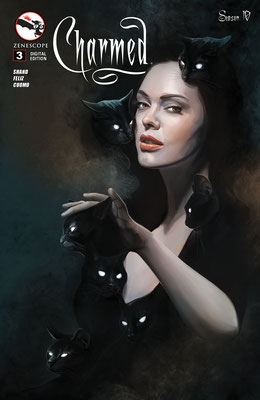 The Perks of Being a Whitelighter
Publication Details
Series Title:
Charmed
Story Arc Title:
Season 10
Release Date:
December 10, 2014
Issue #:
27
Series Volume #:
5
Story Arc Issue #:
3
Story Arc Volume #:
1
The Perks of Being a Whitelighter is issue 27. It is issue number three of both Volume 5 and season ten. Author, Pat Shand, announced the title to celebrate completing the script for the previous issue.
Summary
As a pair of ne'er-do-well demons attempt to activate a weapon that could mean the end of the Charmed Ones, Paige takes on a new charge. But what will she do when her latest witch in training turns into... well, a bunch of cats? Also, the Angel of Death is back, but not in a way anyone will expect... least of all the Angel himself.
Person, Place, or Thing
Locations
Returning from the TV Series
Objects
Returning from the TV Series
Powers
Returning from the TV Series
This issue was originally supposed to come out on December 17th, but the date was moved up as a gift to the fans.
Ad blocker interference detected!
Wikia is a free-to-use site that makes money from advertising. We have a modified experience for viewers using ad blockers

Wikia is not accessible if you've made further modifications. Remove the custom ad blocker rule(s) and the page will load as expected.