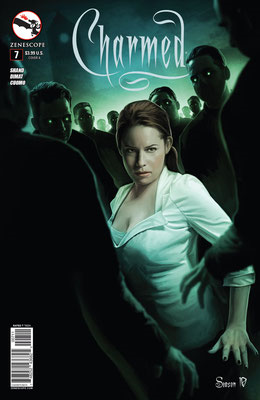 Hard Knox Life
Publication Details
Series Title:
Charmed
Story Arc Title:
Season 10
Original Title:
The Reason
Release Date:
April 22, 2015
Issue #:
31
Series Volume #:
6
Story Arc Issue #:
7
Story Arc Volume #:
2
Hard Knox Life is issue 31. It is the first issue of Volume 6 and issue seven of season ten.
Summary
Remember when the Charmed Ones defeated evil and lived a life of peace? Remember how the Charmed Ones defeated Gaxageal and prevented the rise of the Old Ones, all within the tidy confines of a single issue? Yeah, none of that worked.
Knox is back. Leo's life is on the line. Prue's getting all sorts of creepy. And a new, horrible, decidedly Old villain rises...
Person, Place, or Thing
Characters
Returning from the TV Series
Locations
Returning from the TV Series
Objects
Returning from the TV Series
Powers
Returning from the TV Series
Ad blocker interference detected!
Wikia is a free-to-use site that makes money from advertising. We have a modified experience for viewers using ad blockers

Wikia is not accessible if you've made further modifications. Remove the custom ad blocker rule(s) and the page will load as expected.